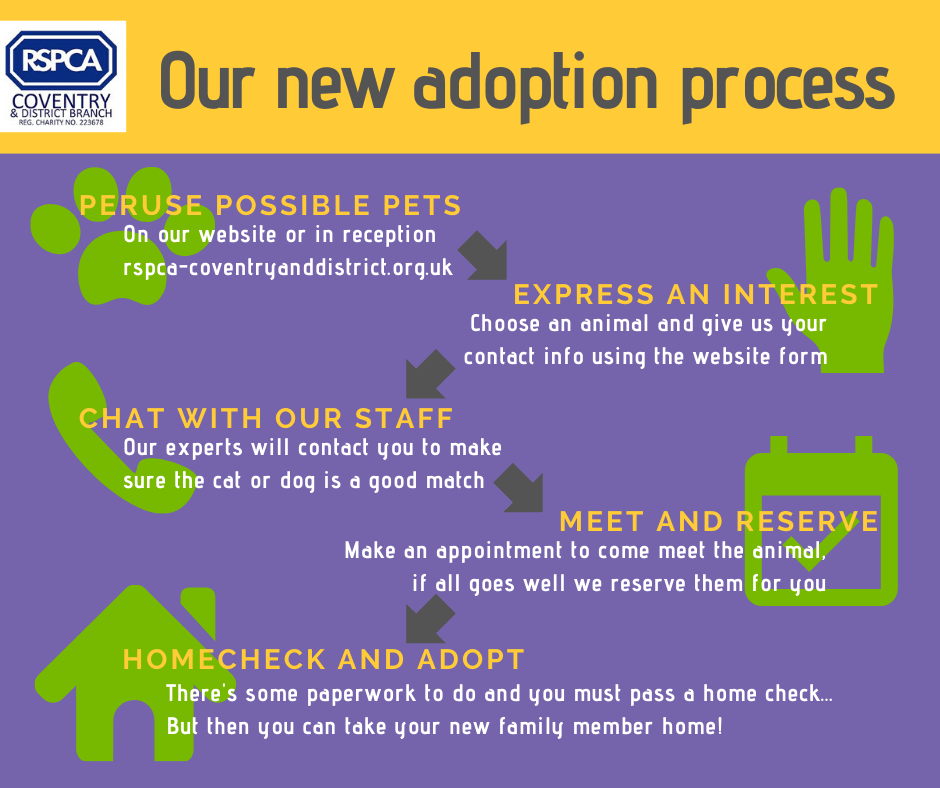 All of our animals looking for their forever homes are shown on our rehoming pages (please see below), so please do keep checking back if there is nothing that takes your eye at the moment. Once you see a pet that you might like to adopt, please get in touch via the express an interest form. A member of our kennels / cattery team will be in contact and can confirm initial suitability and availability for you.  We will happily register your interest in adopting a specific pet via email or phone, but to make a reservation you must come down to the centre to complete our initial interview form and, if everything goes well, meet the animal. 
MEET & FIND OUT MORE
The centre is now closed to look around, you will need to complete the expression of interest on the animal that you are interested in and a member of staff will make an appointment for you to come to the centre.
We assess our animals carefully and will ensure that their needs are put first with any adoption. We will encourage you to come and visit as many times as you can during the adoption process, so that you have the best chance to build a bond and get to know your new friend. You will be able to talk to the staff and ask them any questions you have.
HOME VISIT
Once everyone in the family has met the animal, relevant documentation has been received, and all parties are happy with the adoption, you will be put through to home visit stage. A volunteer home visitor will contact you to arrange a convenient date and time for your home check – usually within 7 days. You will be able to arrange an appointment to take your new pet home after your successful home visit.
COLLECTION
There will be an adoption fee, which varies per animal, and is payable on the day of collection. It always includes:
– Vaccination
– Deflea & worm
– Neutering (spay / castrate)
– Microchip
– Any other veterinary care they have had
– 4 weeks Pet Insurance with Pet Plan
You must bring a secure carrier with you when collecting cats, or well-fitting, safe and secure equipment for collecting dogs. You will also need to be able to transport your dog securely in your vehicle. We will always be happy to help you with measuring and fitting equipment and accessories. Sometimes, we will let you know that your dog needs to go home with specific walking equipment e.g. harness, headcollar. If you have any questions, please ask.
It is the law that any dog in a public place must wear an ID tag with their keeper's surname and address (including postcode), so please bring one of these with you. All of these items except engraved tags can be purchased at our shop on site, where all profits come straight back to the centre. Don't forget to use your 10% discount on the day of adoption!
AFTER ADOPTION
You and your new family member will then be ready to start your life together! We'd love for you to keep in touch by sending stories and photos, as well as coming along to our fundraising events. Many of our dogs love coming back to visit the centre, stocking up on great quality food and treats – as well as plenty of fuss from our loving volunteers and staff! You're always welcome to get in touch with us with any questions, no matter how long it has been since you took your pet home.
Opening Hours
Reception and Pet Shop:

Reception and Pet shop open.
11am-3pm everyday except Tuesday.
But please wear a face mask.
Contact Us
Post:
RSPCA Coventry & District
Brownshill Green Farm
Coundon Wedge Drive
Coventry
West Midlands
CV5 9DQ
Phone:
General Enquiries: 02476 336 616
during opening hours or leave us a message via option 3
RSPCA Cruelty Line: 0300 1234 999
Email:
info@rspca-coventryanddistrict.org.uk
What's happening on Facebook...